Forget New Year's resolutions – set SMART goals for yourself instead. Ever since I can remember, December 31st through the first weeks of January all you hear about is New Year's resolutions. My New Year's resolution is … What's yours? New Year's resolutions most often are just statements made on New Year's Eve. We make New Year's resolutions while we are caught up in the excitement of the new year. Rarely have I observed a commitment to actually putting in the work and effort needed to make a positive change from a simple New Year's resolution. Indeed, somewhere throughout the month of January the aggressive statement made in the excitement of the new year is forgotten.
In the gym, January seems to be the month to work out. The gym is flooded with people who made their New Year's resolution to get their bodies in shape. There's nothing wrong with that, and maybe a small percent will actually achieve it. As a trainer I hope to convert some of these resolutions into lifestyle changes. Unfortunately, the majority of these people will show up, play around on the exercise equipment for a few weeks, see no results and give up by March.
Why will the majority of the New Year's Resolution gym-goers give up?
They made it a New Year's resolution, not a lifestyle commitment.
1. A New Year's resolution to get in better physical shape is too broad, and therefore not attainable.
2. After a few weeks, no results were felt or seen.
3. No time; couldn't fit it into their schedule.
Living a healthier lifestyle needs to be a habit, not a New Year's resolution. To commit to living a healthier lifestyle you need to break it down into attainable goals. You need to set goals and then meet each goal so you can reap the rewards of feeling and seeing results. It is then that exercise becomes a healthy life habit, not just a resolution.
How to Set Fitness Goals
While you want to set your goals high, it is important to be realistic when setting them. In other words, your long-term goal might be high, however you should start by breaking that goal down into smaller goals that will eventually get you to the long-term goal. You want to challenge yourself, but if the goals are unrealistic they will lead to failure or injury. Goals should be Specific, Measurable, Attainable, Realistic, and Timely (SMART Goals).
Specific: Goals need to be clear and direct. Fifteen push-ups with proper form is a clear goal.
Measurable: Fifteen push-ups is measurable. You will know when the goal has been accomplished.
Attainable: Fifteen push-ups is most likely attainable. 275 lb deadlifts would not be attainable for that same person.
Realistic: Completing a 5K is realistic, while running a marathon is much more difficult. While running the marathon might be your long-term goal, the 5k will be attainable in a shorter amount of time. So focus on the 5K, not the marathon.
Timely: While 275 deadlifts and running a marathon might be long-term goals, they need to be broken down into small steps. Accomplishing goals in a short period of time will make you feel successful.
When goals are reached in a short period of time you will feel accomplished and empowered to continue to reach for higher goals.
The following are my top picks of goals that will change your life.
Focus on the psychological benefits of exercise, not what you see
We all know that exercise is associated with weight loss and better physical health. The problem is that just knowing that isn't necessarily going to get us to the gym. The best motivator comes from the psychological benefits physical activity has. These psychological benefits will ultimately make exercise a habit.
Exercises builds muscle strength, boosts endurance and helps your cardiovascular system work more efficiently. By adding regular physical activity into your daily routine you will make your daily living much easier.
Our bodies have something called endorphins. Endorphins are chemicals in the brain that reduce pain and affect our mood. Physical activity stimulates these chemicals and can make you feel happier and more relaxed.
Exercise is an antidepressant. Research has shown that exercise can stimulate the growth of neurons in the brain that depression damages. Doing sustained vigorous exercises three times a week can actually work as effectively as taking antidepressants.
http://health.usnews.com/health-news/diet-fitness/slideshows/7-mind-blowing-benefits-of-exercise/3
You need to feel the high. High-intensity exercise can leave you on a natural high better than any drug you could ever take. If you are willing to push yourself in a high-intensity workout or push your limits to accomplish higher physical goals, you will leave the gym feeling amazing. It is then that you start to feel euphoric and exercise becomes addictive.
The primary goal needs to be to adopt a new lifestyle that includes regular exercise. In order to do this you must feel the psychological results of exercise. It is then that you can start to sculpt your body by changing body composition.
Get out of your comfort zone
If you enter the gym and head off to the treadmill for a half hour and then spend the next half hour on a few weight machines, exercise will become mundane. Not only that, but you will most likely not see or feel the results you are looking for. So you give up. Instead, make your workouts fun and interesting. Get out of your comfort zone, try new classes, leave the machines and learn new ways to workout. TRX, bodyweight exercise, boxing, battle ropes, box jumps, tire flips or circuit training are all good ways to mix it up and get the most out of your workouts. Your body will also respond better to adding different things to your workout regime.
Set yourself a goal of stepping out of your comfort zone and learning a new workout.
Master one skill at a time
Depending on where you are physically, the goal can start out small. It could be mastering a sit-up, running a quarter mile on the treadmill, holding a plank for 20 seconds or a small box jump. What is important is that you work to meet the goal and then challenge yourself to a new, more difficult goal.
Make fitness a part of your routine
The number one reason people give for not exercising is "no time".
We all have busy lives, however we find time to have our cars maintained, our homes maintained and yards maintained, yet we don't find the time to maintain our most important asset: our bodies. Turn your workout into the time you carve out of your day for yourself. That hour of the day will pay off in spades for you, your friends and your family. Turn your stress, anger and frustrations into fuel you burn at the gym. The results will be a happier, healthier, more productive and well-maintained you. If I am having a crappy day or feeling down, I head for the gym and put myself through a strenuous workout. I leave the gym with sweat pouring off me, my heart rate elevated and exhausted, but at the same time I feel exhilarated and like a new man.
Train for an event
One of the best ways I have found to set goals and achieve them is to sign up for an event. If I sign up for a challenging event I become determined to do whatever it takes to successfully complete it.
I signed up for the Tour-de-Cure, a bike ride event that benefits the American Diabetes Association, even though I had not yet given biking with the prosthetic leg a try. The two months leading up to the ride I spent pushing myself and training to complete a 30-mile bike ride. I did the same after signing up for the TRX certification course and the Warrior Dash.
Find a 5K and sign up a few months in advance, then spend those six weeks training for the race. After you experience the exhilaration of finishing the event you worked so hard training for, it might just become a fitness habit.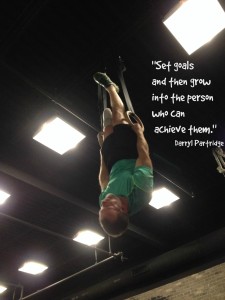 Make 2016 the year you throw out the New Year's resolutions and change your life. Make living a healthy lifestyle a habit by setting SMART fitness goals. The best way to start is to join a gym and work with a personal trainer. A personal trainer will help you set your fitness goals, ensure you are exercising properly and motivate you to continue.
Set goals for yourself all year long, not just in January.
Thank you for reading! Please subscribe to never miss a post or come back in two weeks for my next post,  Statements Amputees Hear or Say .
Also follow my story on Facebook.
Sources:
NASM Essentials of Personal Fitness Training