I am super excited to begin a new chapter of my life. Tomorrow, I will start my new job as a personal trainer.
The gym that I belong to, which has been a huge part of my life for the past year, uses the phrase "reinVENT yourself" as its motto. The VENT comes from the name of the gym being VENT Fitness. The phrase refers to making positive changes in your life through exercise. I never really gave the phrase much thought until recently, mainly because I have spent the past ten weeks participating in the reinVENT challenge. In thinking about the past ten weeks, it occurred to me how fitting the idea of "reinVENT yourself" has been for the past year of my life.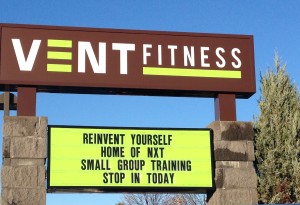 I am 50 years old, have a balding head and one foot in the grave (literally). Yet I feel as if I am getting younger, not older. Physically and mentally I feel healthy, young and ready to take on the many challenges of life. This is not how I felt a year ago and it didn't happen by chance. It took a true commitment to exercise, diet and grueling workouts that challenged my whole body. It also took determination, putting the work in and never cheating myself.
What kept me going back? The harder I worked out in the gym, the better I felt leaving the gym. Soon my body craved the workouts. My mind craved the challenge and my life outside the gym became easier. The gym became the hour of the day I carved out for me. The place I released the problems of the day and unleashed any negativity of the day. If something or someone had upset me that day, I jumped higher, slammed the medicine ball harder, perfected a new trick and left the gym feeling like a new man.
Life brings about so many challenges. They come in many different forms, and I don't believe anyone is truly spared from life's challenges. My challenge was learning to live with an amputation, my lower left leg. I had two choices: to feel sorry for myself or to get off the couch and live. I chose to live, to not let the loss of my leg stop me from accomplishing anything I wanted to do. So I went to work setting physical goals and putting the determination and work necessary into meeting each of them.
It was in November of 2014, six weeks after becoming a below-knee amputee, when I took
on the challenge of becoming a strong, fit and capable one-legged guy. I signed on with Holly as my personal trainer. I had no idea what I would accomplish, but Holly joined me, guided me and pushed me in an incredible adventure. An adventure with an outcome I don't think anyone could have ever predicted. The more Holly pushed, the more I challenged myself, the easier my daily life as an amputee became. Holly and I were a perfect team. I would say, "I want to do a box jump someday" and Holly immediately provided the box and said, "What are you waiting for?" Before I knew it I was leaping on 30" boxes, flipping tires, planking on two medicine balls and signing up for physical challenges outside the gym that I had no idea how to achieve. With each one of them I grew into the person who could accomplish them and reaped the rewards of victory.
Just as life seemed to have leveled off, a new challenge was thrown on me. Two years ago I took my first desk job. I trained and focused on a desk job due to my leg and the need for crutches to walk. The job served its propose. It got me back into the work force, gave me confidence and provided income. However, in the past year I had outgrown the job. My life went back to being physical and active, and no longer required being strapped to a desk eight hours a day. However, it was safe and an area of my life I didn't want to disrupt. Unfortunately, the position was grant funded, the grant money ran out and no new grants could be secured. This meant I was once again out of a job.
The phone call was devastating. How could this be? How could I possible find the strength to start over and find a job yet again? Fifty-year-old men should be long invested in their careers, have job security and be saving for retirement, not picking up the pieces from lost jobs every few years and starting over. Unfortunately, my circumstances haven't allowed for that, and as my supervisor stated, "I am not worried about you. You are a survivor, you will figure this out, push forward and be okay. That is who you are." So that is what I will do.
While I immediately went to work applying to every job I could find and went to several interviews, the jobs were all low-paying dead-end positions. Jobs I knew I would once again outgrow and which had no growth potential. The answer to what I should do seemed crystal clear. So I decided to view this as a positive opportunity to follow my heart and once again do a job I could be passionate about and help others in. It all fell together as if it were meant to be. I will be joining VENT Fitness as a personal trainer.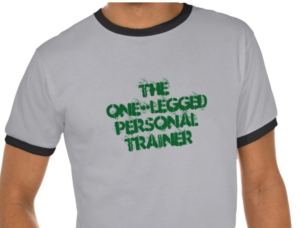 The most rewarding part of my fitness journey has been having the ability to inspire people to get out and make improvements in their own lives. With the loss of my leg I have gained an incredible gift – the awesome ability to teach people that it doesn't matter what challenges life has thrown at you, you can accomplish anything you want with determination and hard work.
Now it will be my turn to guide and push others through their journeys to overcome their life challenges and improve their lives. It doesn't matter if it they are a sixty-year-old person who has spent the past decade sedentary and now needs to improve their health, an overweight person looking to lose weight, or another amputee searching for their independence. The research is clear that regular physical exercise can improve their health and wellbeing. I am the living example that you can overcome your challenges and of how physical exercise can improve our lives.
Though physical fitness my life has truly been transformed. A little over a year ago I was living a life of pain, surgeries and disability. I became an amputee looking for normalcy and physically independence. I am now a healthy, strong, confident man, living a highly active life and starting a new career as a one-legged personal trainer. I'm living it and it still blows my mind! My journey will continue by helping others to overcome their challenges and meet their goals. Using VENT Fitness's phrase, I will be guiding others to "reinVENT" themselves.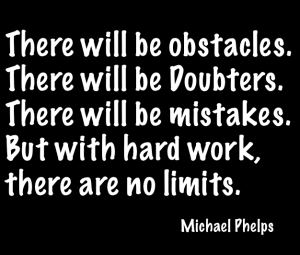 Thank you for reading! Please subscribe to never miss a post or come back in two weeks for my next post.
Also follow my story on Facebook.